2012 Quad Cities Marathon (September 23rd)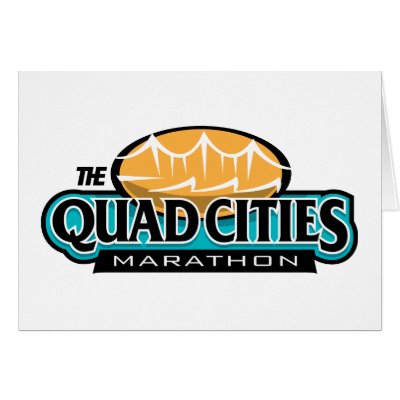 20th Place Male
28th Place Overall
8th Place in Age Group
3:01:27
Sunny, calm, 42 degrees at race time, got up into the mid to upper 50's by race end.
My first ever marathon didnt quite go as to plan but overall I cant be upset because I used it as a learning experience. I knew what I wanted to do and did what I thought I was capable of doing but in the end the second race of the marathon came and bit me is the you know what. I knew the last 4-6 miles were going to hurt and people told me about it and I could picture it but until I experienced it myself I couldn't believe it or feel what it truly felt like. Mentally I wanted to finish and push it in and stay on the great pace I set prior but physically for mile 23-26 I couldnt move my legs any faster than a trot. So hard to deal with, I have never walked in a race in my entire 15 years of running, but I did a little bit for mile 23 where I avgeraged a 12:17 mile. All Icould do was look at my watch and watch my awesome pace be shot to hell in a matter of a 4 miles of the 26.2. But thats the marathon for ya. As I look back on my training yes there are things I would do differently, Im not going to go into detail but I now know I would do a few things differently. Theres really no way you can prepare for that 4 miles of the marathon in your training than to just stick to a pace you know you can handle and save up for that last 4 miles whether you think you feel great early on or not.
The week of the marathon I think I ate great. I probably could have used a little more sleep but due to my jobs I did what I could. Pre race, and I knew this going in, I didnt sleep well the night before but I did two nights out. I woke up what felt like every hour and when I did I took a drink of water. Woke up and ate at 4:15am, headed out to the race at 5, went for a 30 min walk down the Mississippi River, went to a nearby hotel and chilled in the lobby to stay warm, stretched took my 5 hour energy and continued to hydrate a little. 30minutes out from the race I jogged around the parking lot where I could still here the annoucments. Got my warmups off and went to the start. I was two rows back from the elite starters. Cannon went off and I was underway. 1/2 mile in looked at my GPS and saw 6:09 pace, too fast but it was so hard not to. It felt so easy but I knew my pace was 6:30-45. The first 8.5 miles the half marathoners and full racers were all together so it was hard to tell who was in what race. I chatted it up with a few people just to pass the time. At 8.5 miles the half marathoners turned off and I found myself in 15th place overall. Went through the 13.1 in 1:24:51, perfect, I was happy with a 2:50. Stayed at 6:30 pace for a few more miles then I got the bright idea to keep pushing. Dipped down to 6:20 miles and was feeling great. This one guy and I were cruisin together. Mile 20 I saw my parents and gave them the thumbs up saying I feel great. I knew all I had left was a 3 mile out and 3 miles back. Started feeling it on mile 22 when I fell off a little bit and ran a 6:43 mile. I thought OK Im starting to feel it I just slow down a bit and keep it here. Next mile really started to feel it with a 7:56 mile. Then I thought here it comes. I knew I was in trouble. Mile 24 was a killer and a new level of metal toughness I came into contact with. Mile 24 was a brutal 12:17, where it was a mix of walking/trotting/and tying up. Miles 25 and 26 I found somewhat of a second wind and rolled in to the finish.
Great weekend, great race, talked to and met a few new people during the run, had a great experience in my first marathon. Very eye opening and I learned alot about myself and the marathon race in general. Whats next...a little down time and then some stairs. Maybe Boston in a couple years, or Quad Cities next year, or possibly Indy next October, but for now Im going to enjoy some downtime.
Splits:
10k 40:09(6:28 pace), 1/2 1:24:51(6:29 pace), 20mile 2:08:35(6:26 pace), Last 10k 52:53(8:30 pace)
6:09,6:19,6:30,6:22,6:25,6:29,6:26,6:24,6:24,6:27,6:27,6:28,6:24,6:24,6:17,6:20,6:17,6:13,6:12,6:18,6:10,6:43,7:56,12:17,9:10,8:06,3:00